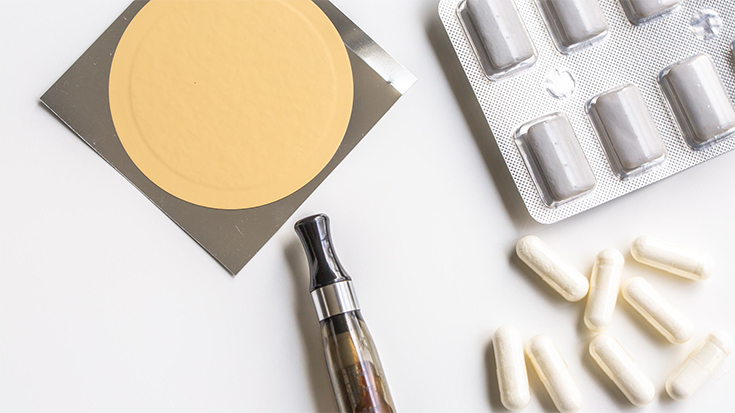 Many people struggle to quit smoking, and when they try going cold turkey, they find it challenging to keep from smoking. The reason for this struggle is because nicotine is highly addictive, and they struggle to control the urges and cravings that nicotine withdrawal produces. When you are looking to quit smoking for good, an excellent way to give yourself the best chance of success is using nicotine replacement therapy. There are many products that you can consider using, and they are all available in various nicotine strengths, so there is a suitable product for everyone. Below are some of the various nicotine replacement therapies you can consider trying, and they could lead you to take the first step of living a smoke-free life.
24-Hour Nicotine Patches
One method of nicotine replacement therapy, which is also discreet, is using nicotine patches. These patches can last for around 24 hours, and depending on where you place the patch, nobody will know you are using them. You will want to apply your nicotine patch in the morning once you are washed and dressed and place it anywhere on your body in a discreet location. The nicotine patch releases the nicotine at an even rate throughout the day and is absorbed through your skin. It can help control your cravings throughout the day and ensure you do not go back to smoking. You can purchase these patches at pharmacies and supermarkets without a prescription, and they are available in varying strengths.
Vaping E-Liquid
Another highly popular nicotine replacement therapy is vaping, and millions of people use this worldwide to help them quit smoking. Vaping can be as complicated or as simple as you want it to be, and there are many different types of vaping devices available. If you are looking for something simple, you can consider buying disposable vapes, and for something more complicated, you may want a mod tank. You will need to ensure that you select a suitable vape juice for your device if you are not using a disposable one, and the e-liquid is available in many different flavours. Whenever you feel an urge to smoke coming on, use your vaping device, and within a few seconds, you will feel the craving subside. You can purchase vaping devices, e-liquids, and everything you need over the counter at speciality vape shops, newsagents, and supermarkets throughout the country.
Chew Nicotine Gum
Nicotine gum is one of the oldest nicotine replacement therapies, but it is still effective and a popular choice. Nicotine gum is available in pharmacies and supermarkets, and you do not need a prescription to buy it. You can control your urges and cravings by chewing the gum, and it is available in various nicotine strengths. The one drawback to nicotine gum is that it is available in limited flavours, and not everyone likes to chew gum. However, it may be suitable for you if you like to chew gum, and it could be the first step to help you quit smoking for good and start to take control of your health.